Jobs at PLASTON
PLASTON works on an international platform, employing around 400 people in Switzerland, the Czech Republic and China. PLASTON gives dedicated individuals who strive for innovation, extraordinary prospects and development opportunities.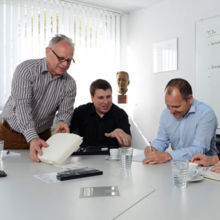 Anyone who works at PLASTON and for PLASTON customers is happy to go beyond the technical norm. They listen to the needs of the customers in order to surprise and amaze them with creative and innovative solutions.
The PLASTON employeees develop, produce and sell technically well thought out, durable plastic cases and assembles customer-specific units up to finished products and devices ready for sale. PLASTON is the leading global provider of plastic packaging systems.